Spiced Cranberry Apple Cake with Orange Glaze
Here's a fantastic recipe from our friend Jim Cooney that's perfect for the season. It features
New England Cranberry Apple Jam
and all we can say is that the cake barely made it through the photo shoot.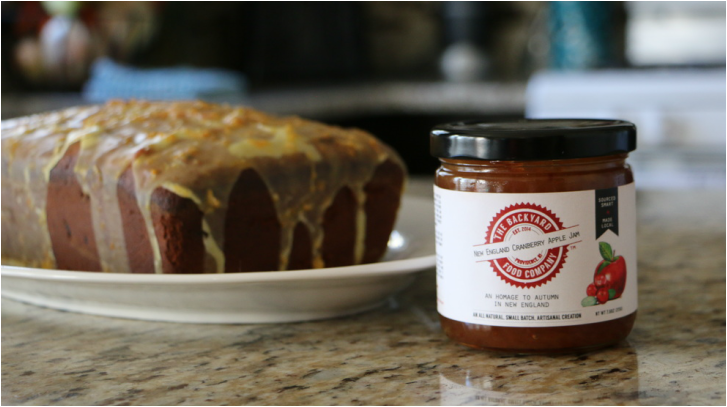 Skill Level: easy

Prep Time: 20 minutes

Cook Time: 60 minutes

Total Time: 80 minutes

Cake:
2 cups all purpose flour

1 teaspoon baking soda

1/2 teaspoon salt

1/2 teaspoon nutmeg

1/2 teaspoon cinnamon

1/2 teaspoon ground cloves

3/4 cup sugar

1/2 cup butter

2 eggs

1/2 cup buttermilk

1/2 cup dried cranberries

Glaze:
1 cup powdered sugar

2 tablespoon orange juice

1 teaspoon orange zest
Directions:

Cake:
Preheat oven to 350

Sift flour, baking soda, salt, nutmeg, cinnamon and cloves in a small bowl.
In a large bowl, cream sugar and softened butter Add eggs and beat thoroughly.

Beat in dry ingredients and buttermilk alternately.

Gently stir in New England cranberry apple jam to create pockets of jam in the finished cake.

Pour into 9 X 5 X 3 inch loaf pan and bake at 350 for 55 to 65 minutes or until toothpick comes out clean.

Cool 10 minutes before removing from pan.


Glaze:
Combine powdered sugar, orange juice and orange zest.

Spoon over warm cake.
FREE SHIPPING ON ORDERS OF $35 AND OVER. SHOP NOW
Sign Up For Exclusive Deals and Recipes
Stay up to date with the latest and greatest! You'll have early access to new products and recipes and get exclusive deals and offers.